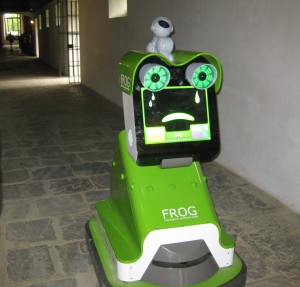 On the 20 November 2014, the FROG project held its Final Review. FROG is leaving the Royal Alcázar for now but hopes to be invited back. The robot will stay in Seville till the end of 2014.
UPO has been invited to present FROG at FITUR, the International Tourism Trade Fair, at the end of January 2015.
After that the robot will go to Lisbon to prepare for a presentation and demonstration tour during the European Zoo Educators (EZE) Conference from the European Association of Zoos and Aquaria (EAZA), hosted by the Lisbon Zoo in March 2015.
After finalising the reports, next week, the FROG Consortium as such will end its being. We will continue to post news, about the green FROG and the red FROG, here.
The researchers will continue their work in other projects, for instance, FROG partners are already involved in TERESA, SQUIRREL, EASEL, MOnarCH and others.
But for now: So long, everyone! And special thanks to Luis, Rafael and Paulo for introducing us to some of the best little restaurants in Seville and Lisbon – the fish was especially good!