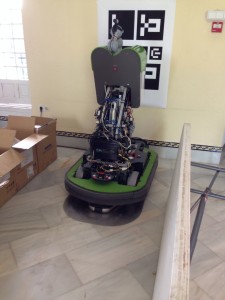 The UPO research team has made a mockup of the space where the FROG will go to recharge. UPO is finalizing their implemention of the docking sequence.
After testing, the docking station will be placed in the shop near the entrance of the Royal Alcazar. This will be the FROG's base for all of next week. When it is running low on power, the robot will return to the shop, align itself to the docking station and drive on to recharge its batteries.
This lab has a view of the Tennis Courtyard of the Royal Alcazar and the tower of the cathedral.